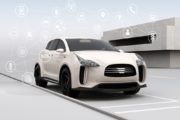 | | |
| --- | --- |
| Region: | Europe |
| Sector: | Mobility |
| Institution: | Bundesministerium für Verkehr und digitale Infrastruktur (BMVI) |
| PMA:* | VDI/VDE Innovation + Technik GmbH Projektträger AVF-Förderprogramm des BMVI Bereich Zukunftstechnologien und Europa Steinplatz 1 10623 Berlin Tel. (0 30) 31 00 78-5 34 E-Mail: ptavf@vdivde-it.de Internet: http://www.vdivde-it.de |
Submission Deadline:
1. Stichtag: 28.02.2017 2. Stichtag: 30.06.2017
Scope of Funding:

Die Höhe des Zuschusses beträgt:
–für Unternehmen der gewerblichen Wirtschaft i.d.R. – je nach Anwendungsnähe des Vorhabens – bis zu 50% der förderfähigen Kosten,
–für Hochschulen und außeruniversitäre Forschungseinrichtungen bis zu 100% der zuwendungsfähigen Ausgaben.
Type of Funding:
Zuschuss
Description:
Das Bundesministerium für Verkehr und digitale Infrastruktur (BMVI) unterstützt Forschungs- und Entwicklungsvorhaben, die Fragestellungen in Zusammenhang mit höheren, über die Teilautomatisierung hinausgehenden Fahrfunktionen sowie die Vernetzung und Kommunikation zwischen den verschiedenartigen Verkehrsteilnehmern und auch mit der Infrastruktur betrachten.
Gefördert werden Verbundvorhaben zu folgenden thematischen Schwerpunkten:
–Zusammenwirken von Fahrer und Fahrzeug,
–Organisation des Straßenverkehrs,
–Kooperation und Vernetzung sowie
–gesellschaftliche Aspekte.
Ziel ist es, innovative Lösungen zu fördern, um die Einführung automatisierter Fahrfunktionen und vernetzter Verkehrssysteme in Deutschland zu unterstützen.
Country: Germany
Eligible Applicants: Unternehmen der gewerblichen Wirtschaft mit Betriebsstätte in Deutschland, Hochschulen und außeruniversitäre Forschungseinrichtungen, Gebietskörperschaften
Source: Förderdatenbank Bund
Explanation: