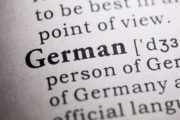 | | |
| --- | --- |
| Region: | Europe |
| Sector: | Education |
| Institution: | Bundesministerium für Arbeit und Soziales (BMAS) Europäischer Sozialfond (ESF) |
| PMA:* | Bundesamt für Migration und Flüchtlinge (BAMF) Referat 324 – Europäischer Sozialfonds Blaubach 13 50676 Köln ESF-Hotline: (02 21) 9 24 26-4 00 Tel. (02 21) 9 24 26-0 Fax (02 21) 9 24 36-2 99 E-Mail: esf-verwaltung@bamf.bund.de Internet: http://www.bamf.de |
Submission Deadline:
31.12.2017
Scope of Funding:

Die Höhe der Förderung beträgt
–bis zu 80% der zuwendungsfähigen Ausgaben für das Zielgebiet Übergangsregionen (neue Bundesländer ohne Berlin und die Region Leipzig),
–bis zu 60% für das Zielgebiet Übergangsregion Lüneburg sowie
–bis zu 50% für das Zielgebiet Stärker entwickelte Regionen (alte Bundesländer einschließlich Berlin sowie die Region Leipzig).
Type of Funding:
Subsidy
Description:
Gefördert werden Maßnahmen zur Vermittlung von berufsbezogenen Kenntnissen der deutschen Sprache für Personen mit Migrationshintergrund.
Mitfinanziert werden Maßnahmen für Personen, die
–Arbeitslosengeld nach dem Dritten Buch Sozialgesetzbuch (SGB III) oder Arbeitslosengeld II nach dem Zweiten Buch Sozialgesetzbuch (SGB II) beziehen,
–in einer von der Agentur für Arbeit geförderten berufsvorbereitenden Bildungsmaßnahme gefördert werden,
–in einer von der Agentur für Arbeit oder dem Jobcenter geförderten betrieblichen Einstiegsqualifizierung oder ausbildungsvorbereitenden Phase der Assistierten Ausbildung (§ 130 Absatz 1 Satz 2 SGB III) gefördert werden,
–an den Bundesprogrammen "ESF-Integrationsrichtlinie Bund" oder "ESF-Bundesprogramm für Bleibeberechtigte und Flüchtlinge II" teilnehmen,
–sich in einer Berufsausbildung im Sinne von § 57 Absatz 1 SGB III befinden oder
–arbeitsuchend oder ausbildungsuchend gemeldet sind.
Ziel ist es, zur Integration von Personen mit Migrationshintergrund in den ersten Arbeitsmarkt beizutragen.
Country: Germany
Eligible Applicants: Natürliche und juristische Personen des privaten, öffentlichen und internationalen Rechts. Lokale Kooperationen von unterschiedlichen Einrichtungen sind für die Durchführung der berufsbezogenen Sprachförderung erwünscht.
Source: Förderdatenbank Bund
Explanation: