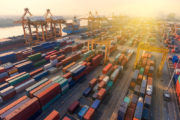 | | |
| --- | --- |
| Region: | Europe |
| Sector: | ICT; Innovation |
| Institution: | Bundesministerium für Verkehr und digitale Infrastruktur (BMVI) |
| PMA:* | Projektträger Innovative Hafentechnologien TÜV Rheinland Consulting GmbH |
Submission Deadline:
Anträge können vor Beginn des Vorhabens im Rahmen spezifischer Förderaufrufe eingereicht werden. Im Rahmen des 2. Aufrufs können Projektanträge bis zum 15. Dezember 2017 eingereicht werden.
Scope of Funding:

Die Förderung erfolgt in Form eines Zuschusses für einen Zeitraum von maximal vier Jahren.
Die Höhe der Förderung beträgt
– bis zu 50% der beihilfefähigen Kosten für industrielle Forschung,
– bis zu 25% der beihilfefähigen Kosten für experimentelle Entwicklung,
– bis zu 50% der beihilfefähigen Kosten für Durchführbarkeitsstudien.
Kleine und mittlere Unternehmen gemäß 
KMU-Definition
 der EU können unter bestimmten Voraussetzungen einen Bonus erhalten.
Type of Funding:
Zuschuss
Description:
Das Bundesministerium für Verkehr und digitale Infrastruktur (BMVI) unterstützt Vorhaben zur Entwicklung oder Anpassung innovativer Hafentechnologien.
Gefördert werden Einzel- und Verbundprojekte zu folgenden Themenbereichen:
– technische Innovationen zur Optimierung des Güterumschlags und für die Abfertigung von Passagieren,
– Optimierung der Lagerhaltung,
– innovative und informationstechnische Konzepte und Systeme zur Steuerung und Abwicklung der Waren- und Fahrgastströme im Hafen,
– informationstechnische horizontale Integration über Wertschöpfungsnetzwerke sowie vertikale Integration und vernetzte Produktionssysteme (Industrie 4.0),
– Verbesserung der IT-Sicherheit,
– Automatisierungsprozesse und Mensch-Technik-Interaktion,
– technische Innovationen zur Steigerung der Energieeffizienz im Hafen und Verringerung der Umweltbelastung.
Ziel ist es, die Häfen zu unterstützen, Güterumschläge zu optimieren, Arbeitsplätze zu erhalten und zu schaffen sowie den maritimen Standort Deutschland für das global-digitale Zeitalter zu entwickeln.
Country: Deutschland
Eligible Applicants: Antragsberechtigt sind Unternehmen der gewerblichen Wirtschaft, Einrichtungen für Forschung und Wissensverbreitung, außeruniversitäre Einrichtungen sowie Ingenieurbüros mit Betriebsstätte oder Niederlassung in Deutschland.
Source: Förderdatenbank Bund
Explanation: *PMA: Project Management Agency