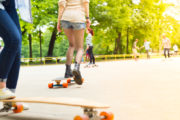 | | |
| --- | --- |
| Region: | Europe |
| Sector: | Urban Development |
| Institution: | Ministerium für Wirtschaft, Arbeit und Wohnungsbau Baden-Württemberg |
| PMA:* | Jeweiliges Regierungspräsidium in Baden-Württemberg |
Submission Deadline:
jährliche Ausschreibungsrunden
Scope of Funding:

Die Höhe der Förderung beträgt maximal 60% der zuwendungsfähigen Kosten, jedoch max. 100.000 Euro je städtebauliches Erneuerungsgebiet.
Type of Funding:
Zuschuss
Description:
Das Land Baden-Württemberg fördert in Ergänzung der Städtebauförderung die Begleitung, Unterstützung und Verstetigung nicht-investiver Vorhaben in festgesetzten städtebaulichen Erneuerungsgebieten der Programme "Sozialen Stadt" und "Aktive Stadt- und Ortsteilzentren".
Mitfinanziert werden nicht-investive Maßnahmen zur
– Betreuung von Kindern und Jugendlichen in der Freizeit,
– Integration von Migranten,
– Inklusion von Menschen mit Behinderungen,
– Teilhabe von älteren Menschen am Leben im Quartier,
– Beteiligung und Mitwirkung der Einwohnerinnen und Einwohner aller Generationen und Mobilisierung ehrenamtlichen Engagements,
– Verbesserung des Stadtteilimages durch Erhöhung der Nutzungsvielfalt und Stärkung des Zusammenhalts im Quartier.
Die Förderung kann im Rahmen eines Verfügungsfonds, für den Einsatz eines Quartiersmanagers oder für sonstige geeignete nicht-investive Projekte – einzeln oder auch kombiniert – erfolgen.
Ziel ist es, den sozialen Zusammenhalt und die Integration in Wohnquartieren mit negativer Entwicklungsperspektive und besonderem Entwicklungsbedarf, insbesondere in Gebieten mit benachteiligten Bevölkerungsgruppen, zu sichern und zu verbessern.
Country: Germany/Baden-Württemberg
Eligible Applicants: Kommunen in Baden-Württemberg
Source: Förderdatenbank
Explanation: *PMA: Project Management Agency